Following the guidelines set by Gov. Kate Brown regarding the prevention of the spread of coronavirus, An Evening in Spring will now be held on June 11, 2020.
Thank you for your understanding!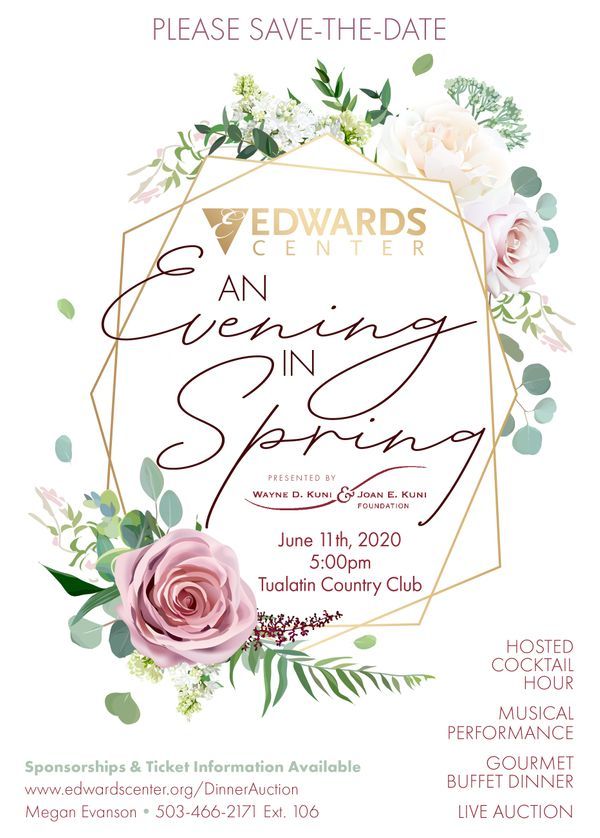 Please Save the Date for Edwards Center's dinner & auction:
An Evening in Spring!
June 11th, 2020
5:00-8:30pm
Tualatin Country Club
Enjoy a hosted cocktail time, gourmet buffet, a live auction with great prizes, a special musical performance and touching stories from our Direct Support Professionals. 
Tickets on sale now - $75 per seat
Tables of 8 available
Order of Events
5:00 pm - Check In & Hosted Cocktails
5:45 pm - Dinner Buffet Begins
6:15 pm - Introductions & Program Begins
For Our DSPs
This year, we are raising money for the dedicated Direct Support Professionals (DSPs) that are the heart of our organization. They are the ones that care for your loved ones each and every day in our programs and our group homes, plan fun activities for our participants and accompany them in the community, go with our residents to doctor and dentist appointments and help ease any anxiety that comes with these trips. They cook meals and distribute out medications, assist participants that need help in the shower or using the restroom and clean our group homes. Sometimes, they are even the ones to hold a participant's hand as they take their final breath.
Our DSPs don't enjoy the same "normal schedule" that many of us do. It's not uncommon for a DSP to work a 36 hour block shift from Friday night to Sunday morning. They skip holidays with their families and friends to spend them in our group homes. When working overnight, they must be alert even when sleeping in case they're needed. This is no easy job - these hardworking individuals are truly the heart of our organization.
Live Auction Items
Our live auction will feature many great items such as:
-One week stay at Grand Pacific Resorts in Carlsbad, CA (Donated by Diane Proulx & the Proulx-Sali Family)
-One week stay in Boca Raton, FL (Donated by Anne Andersen and Family)
-One week stay in Hawaii (Donated by Craig and Linda Hannum) 
-Four nights on the 4th of July at Seaside (Donated by Georgia Lampros Obradovich & Family)
-Diamond Club Mariners Tickets for 8/22 Game (Donated by Grant Yerke & Family)
-Gold passes to the Waterfront Blues Festival (Donated by Bobbi Lampros)
-Two night stay at the Inn at Cape Kiwanda & Dinner at the Pelican Pub (Donated by Alison Schrupp)
-One night stay at Hilton Downtown Portland, Two tickets to the Oregon Ballet Theatre and Dinner at Tasty N Alder (Donated by Hilton, Oregon Ballet Theatre and Canary Marketing)
-Indian Dinner Party for 8 with Beer and Wine (Donated by Devika Saletore)
-Crab Dinner Party with Wine (Donated by Pacific Seafood)
-A round of golf & lunch at Waverly Country Club (Donated by Bridget & Doug Otto) 
-Guided Fishing Trip (Donated by Grant Putnam)
And more great items to be announced!
A $50,000 Match!
A generous, anonymous donor has started a wonderful fund that will help us provide an annual bonus to our hard-working DSPs for all that they. To help kick off our fundraising efforts, they have also offered to match all donations at An Evening in Spring up to $50,000! All funds raised at An Evening in Spring will be contributed to the DSP fund.
The funding for our DSP wages comes from the state and federal governments. Edwards Center recently approved a $1/hour raise for these essential employees, but it is still not enough. In ten years, we have received only a 4% increase in government funding - meaning many of our DSPs make just pennies over minimum wage. 
The goal for this fund is to build it up so that each year we can pay out the interest it accumulates while the "base" remains untouched - continuing to gain interest annually that is given as a bonus. Edwards Center contributes 20% of all annual fundraising to this fund in an effort to raise the base to a distributable amount.  Please consider helping us reward the incredible individuals that make Edwards Center what it is! 
TITLE SPONSOR
We are so grateful to have the support of the Wayne D. Kuni & Joan E. Kuni foundation as our Title Sponsor for An Evening In Spring. 
Their dedication to enriching the lives of adults experiencing developmental disabilities created so much opportunity for these individuals in our community. We are so proud to be a part of their legacy as we continue our mission to enhance the lives of adults experiencing developmental disabilities. 
HEART SPONSORS